My Trip to Israel
by Rich Lehman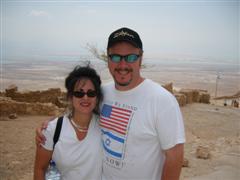 The first thing on my journal tape Ė ďI miss daddy and I love you so much!Ē Ė Jacob (6 years old). Thought: You, know, this IS the most important thing in the world, my family!
The only image that I have of Israel is based on "snapshots." I have no mental panoramic view of the land, the people or the culture. The only thing that I have seen up until the age of 39 are snapshots of the land and the places.
All of that is about to change.
Iím envisioning a country with a lot of brown in it. I know there are a lot of green pastures and fields, but when I think Israel, I think brown. Maybe thatís wrong.
During one of our pre-trip meetings, Ruby Creditor showed us a picture of the beautiful sunset over a mountain. All I could see was the picture of the sunset. She could see the sunset itself. I canít wait to see the view for myself. I have nothing to compare it all to. The trip has been planned for 6 months or so, but I havenít had a chance to ponder it yet. Now that it is here, it is hard to believe that it actually has arrived.
We are supposed to go to the Kotel as soon as we get there. Weíre not wasting any time, weíre getting right down to business! I didnít even know what the Kotel was until a couple of years ago! I always knew the wailing wall, the temple mount etc. Iím in for real education!
The group of people we are going with is quite an eclectic mix. There are a mix of races religions, and ages. We all have this trip and the effect of this experience in common. Many of the people going are going for the first time.
People on the trip: Rich & Amy Beth Lehman, Rabbi & Ruby Creditor, Dane & Leslie Burke, Bob & Anita Schneider, Mark & Susan Smith, Larry & Francis Goldman and Sam, Judy Crocker, Cathy Zogby and Mike and Chris, Louis & Bonnie Morrow and Angel, Daniel Bloss.
There are so many things to consider before going, what to pack, passports, make sure things will be taken care of. Just in case, we had our wills prepared. Not that we are expecting anything to happen, but we will be gone for two weeks and just wanted to be prepared.