Shabbat/Tel Aviv Beaches/The Return Home
Day Thirteen - Saturday July 15th -

- Yom Shabbat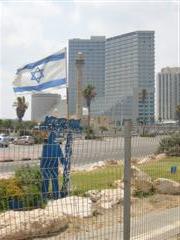 Saturday morning, the news is showing that the situation is really escalating quickly. Iím starting to think that this is a good time for the trip to end, but I donít really want it to end. The wave of violence seemed to follow us to Tel Aviv, but now that we are here, you donít have any idea that just an hour or two North, there is a war going on.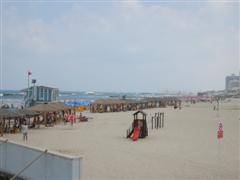 Amy Beth decided to go to temple this morning, I decided to stay in and relax. Up until this point, I really havenít had a chance to relax, weíve been moving from morning till night, and Iíve stayed up late each night writing this journal. I packed, completely for the journey home, I ate a late, but nice, breakfast at the hotel, and then I went out for a two hour stroll around Tel Aviv. I walked up the Mediterranean Sea, passing Chinky Beach and Banana Beach as I collected my thoughts. Iím not sure that I like the way they designed the beachfront property in Tel Aviv. You have the Sea, then the beach, then a boardwalk, then a busy street, then the hotels. In order to get to the beach from the hotels, you have to cross that busy street, I donít like that!
Every 15 minutes or so, there is a series of two military helicopters flying and patrolling the beach, otherwise, there are no indications of any trouble. Who knows, maybe the extra patrolling is normal? I also spotted a cargo plane that seemed to make a u-turn right in front of me and head back north.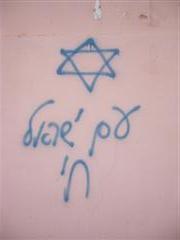 The architecture in Tel Aviv is mostly concrete, not stone as in Jerusalem. I walked along an area that appeared to be slums just a couple of blocks off of the beach to just get a feel for the off beaten path in Tel Aviv. Everywhere I turned I noticed the slogan ďam yisroel chaiĒ Ė "the nation of Israel lives!" It was a bit tacky, but at least the graffiti was uplifting!
Thought: I was walking up the beach, and there were thousands of people there. The beach was packed with people, umbrellas were up, the sun was out and hot, the waves were splashing up on the sandy shores with the people and against the rocky shores too. The women were out strolling looking beautiful, the men were out chasing them, and enjoying the day. There were a lot of older people and kids playing. Everyone was enjoying the beach today. No one seemed to be concerned about the war going on in the north. We were only about 1Ĺ hours away from the war, and you would think that it was on the other side of the world from here, when in fact, it was only about 75 miles as the crow flies. Even at that distance, in Israel, that really is a long way away. You canít travel 75 miles as easily here as you can in Virginia, there are mountains and hills and rocky areas. Even I, felt lulled into a (not necessarily false) sense of security here in Tel Aviv.
As I was walking, I heard a rooster crow, totally out of the blue! I got it on tape on my dictation machine! There is always something to remind you that Israel is a natural country!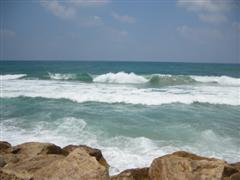 Right when I walked in to the Dan Panorama, I saw Amy Beth coming out of the elevator, perfect timing. We then went to the pool area and relaxed for an hour or so, and then went to the Mediterranean Sea to dip our toes in the water and take a relaxing walk up the shoreline. Just as we had found some chairs overlooking the Mediterranean and we started to really sink into the idea of total relaxation, a guy came up to us and said, ď6 shekels for the chairs!Ē We realized that it was probably about time to go anyway, so we said, thanks but no thanks, and the vacation portion of our vacation, was over as soon as it began!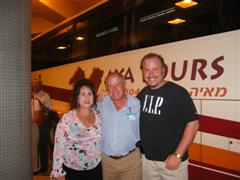 We ate with everyone at the hotel, one last meal together. It was another gluttonous meal. They served us enough food for about 80 people, but we were only 19, at this point as Bob and Anita had already gone on their own the night before.
Just before leaving, we found out that the Chinese Pagota restaurant in Tiberias, right next door to Decks restaurant, suffered a direct hit by a Katyusha rocket.
We set off for the airport where we caught the plane to Atlanta at midnight, and then arrived in Richmond on Sunday at about 10:30 am EST. Back on US soil once again.