Golan Heights, Sea of Galilee, Tiberias
Day Ten - Wednesday July 12th -

- Yom Rivee-ee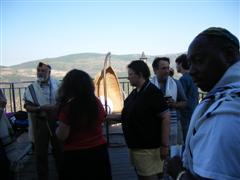 I took a shower overlooking the beautiful view of Mt. Meron. We all took part in Shacharit at 7:30am on Frances and Larry's terrace. We then, ate breakfast again at the Ruth Rimonim hotel. We headed out traveling east of Tzefat until we reached the northern part of the Golan Heights. We crossed over Gesher Benot Ya'akov, the Bridge of Ya'akov's Daughters. This bridge was made of wood and was a bit rickety as we passed over it.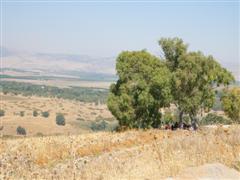 We stopped at a place known as the Overlook of Gadot. Gadot is a kibbutz right at the base of the northern part of the Golan Heights. Between the years of 1948 and 1967 there were shots everyday from the Golan Heights into Israel. Not a day would go by without some action from Syria. The kibbutz of Gadot had burned as a result of the fighting and Syria was trying to divert water from the Jordan river (that feeds the sea of Galilee). All of this caused a tremendous amount of friction. During the 1967 war, the Israeli's pushed the Syrians back and claimed the Golan Heights.
Somewhere between 9:00 and 10:00 am…
While we were listening to Gadi explain the Israeli-Syrian conflict, we could hear, and feel, concussions in the background. Gadi explained that these were probably military artillery exercises coming from the training areas and echoing off of the mountains. Frances seemed to think they were coming from the North. We didn't think anything more of it at the time.
We learned the story of Eli Cohen, who was a Jew who infiltrated the Syrian army, rose to a high rank (I believe that he was a colonel) and was sending Israel very important intelligence on Syria. He was discovered and sentenced to death. In Israel, he remains a hero. Syria will not return his bones to grant a proper burial.
We overlooked Mt. Cannan, and I took some photos of a Syrian bunker. The Syrians, having occupied the Golan Heights had setup some camps, but they lived in virtual squalor.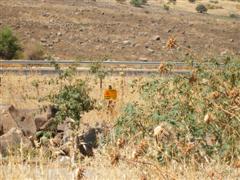 A minefield surrounded the area, clearly marked. I picked up a rock from this lookout point. The rocks here are lava in nature due to the formerly active volcano close by.
We drove for about 15 minutes when Gadi explained to us, that Meyer heard on the news that the Hezbollah had captured two of our soldiers, and were retaliating against Lebanon in the north.
Those artillery shells we heard, were real.
This heightened everyone's awareness and concern. We were at that spot (according to Meyer) just yesterday. Who knew such a conflict would break out. Israel's tensions were already mounted by the abduction of Gilad Shalit. The Arabs are trying to cause a reaction from Israel, and they are getting it.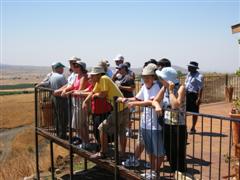 We then stopped at another lookout point, where I photographed the group, viewing the border between Syria and Israel. There is a UN lookout village that is there to monitor the cease fire agreements between Syria and Israel. We were within two miles of the Syrian border. You could see a mosque in the Syrian village.
My wife just said I'm cute! She's cute too. She likes to listen to me recording into my dictation machine. But, without it, I would never remember all of this information!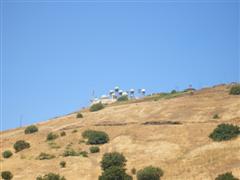 Gadi told us of the Druze, a secret religion of people who live near the Israeli-Syrian border. They are of Arab descent originally, but their first allegiance is to the Druze. They must marry within each other, and they struggle to not be involved in politics.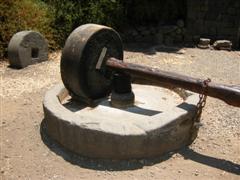 We went to the park of Qatsrim Antiquities. We studied the presence of Jewish settlers on the Golan Heights. The presence here, marked by the restored ruins and an incredible room with an audio visual presentation, which seems to be in the middle of nowhere, seems somewhat primitive and hard. Someone who could live to be 45 under these conditions, would be considered fairly old.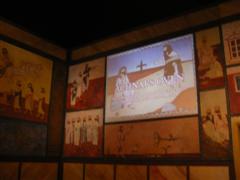 We watched a presentation on the origination of halachic law. The film highlighted both the need for the Jews to make halachic judgments on their own, and to have some type of rabbinic discipline to adhere to the rule of law. The story was illustrated with the story of Rabbi Akiva and Rabbi Eliazer regarding an oven.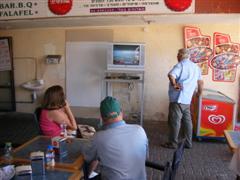 We then stopped for lunch at a Falafel stand where there was a TV. We all eagerly watched to see if there was any news. We couldn't really follow it, as there were no English subtitles, but Gadi followed it for us. All we knew was that there were two soldiers captured, and there was Israeli retaliation in Lebanon.
Lebanon is controlled by Syria, basically they are a puppet state. The Hezbollah are funded out of Iran, but have their safe haven in Lebanon under the permission of Syria. I asked Gadi how close we were to the fighting. We were 15-16 miles from the closest Lebanese border, and probably within 20 miles of the fighting.
The area where we ate lunch was completely Israeli, no English writing, and broken English from the vendors. I had a really good schwerma – finally, and some ice cream.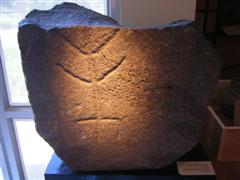 We then went to the Golan Archeological Museum where we studied the story of the city of Gamla. The city was named Gamla, or camel, because the hill that the city was build on looked like the back of a camel.
This story is even more compelling than Masada. The Romans attacked this city, a halachically observant city, the year after the Jewish uprising in 67 CE, and laid siege to the city. The people of Gamla fought courageously and held the Romans off for quite some time (I believe it was close to a year). Over 5000 people lost their lives in the fighting, and when the city was breached by the Romans and there was no escape, 4000 of them, after having fought the Romans to the end, plunged to their deaths off of the northern cliff.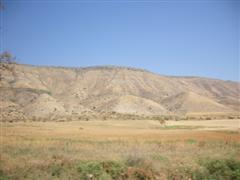 We then headed south for the Kinnerett, or the Sea of Galilee. We passed the town of Yehuda, I took a quick video. Everywhere you look are ROCKS!!! This is true of all of Israel, rocks are on every hill, mountain, valley, you name it. We passed the Golan Heights on our left.
Things I noticed: Everywhere you look are guns. It is so natural for Israeli's to carry rifles for protection. Since a group of 20 school children where kidnapped, (I need to ask Gadi the details again) a law was passed to require that there be at least one armed guard to escort and protect each group of children as they travel or walk as a group through Israel. We saw this many many times throughout the two weeks in Israel.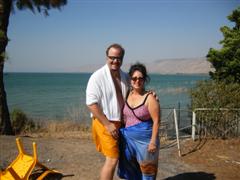 We stopped for a nice swim at the beach of Tzemach. We all took a dip in the fresh water Sea of Galilee. I really don't know how to spell "Galilee!" I have since spell checked the spelling before that I had about 4 different spellings! There were slides of which we all had a great time going down, and the water itself was refreshing. About 30 feet into the water you could feel the bottom of the sea become less rocky until you could feel mud. The "Mud-men" had resurfaced together again!! There were a bunch of women in the men's changing room walking around while we were taking showers! I don't get that, go to your own bathroom!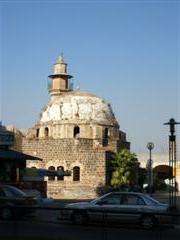 We then headed north for Tiberias along the West coast of the Kinnerett. We passed the Kibbutz Teganya. There is a lot of Banana crop here around the sea.
The spoken Hebrew language was kept alive by the scholars of Tiberias. The four holy cities are Jerusalem, Tzefat, Tiberias and Chebron. Tradition says that Maimonadies is buried in Tiberias.
Amy Beth and I had a nice stroll through some of the shops in Tiberias.
Thought: There is all of this military action going on just up north from us, and everyone here seems oblivious to what is happening. The shops are selling bikinis, batteries, food, toys, skirts, etc. etc. etc. I hear a remake of Whitney Houston's "I want to dance with somebody" in a hip hop kind of version over the store's sound system, and life here seems to go on normally, regardless of the action. You feel just as safe here as anywhere else.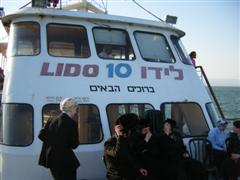 After the stroll, we went to Decks restaurant (next door to the Chinese Pagoda), and took a 45 minute cruise on the Sea of Galilee on a fairly large boat. We had the boat to ourselves, with the exception of about seven or eight Chasidic Jews – who apparently don't like to be photographed – see the photo, nice hats guys!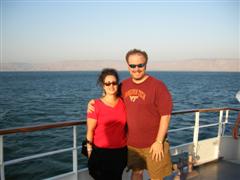 The wind was blowing and the sun, just above Tiberias, was beautiful. I had a nice conversation with Rabbi Creditor. He really has been great on this trip. He, as I anticipated, knows a great deal about Israel, and for him, this trip is kind of a refresher course.
We docked and ate at Decks. This was a great restaurant! It was very similar to the previous night, but I liked the food even better. They kept bringing us small dishes of all types of culinary tastes. Just before dessert, about 6-8 Mediterranean beauties with sparklers came out to present desert. At the end of the night, I was stuffed again! I really can't eat like this back home!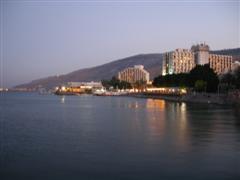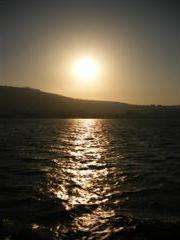 Tiberias, at night, is a beautiful city from a distance, which we viewed as we drove away. There was a very low lying and orange moon which was strange, but beautiful. At first I thought it was some kind of illuminated sign, but then it started moving relative to the ground. I tried to take a picture, but couldn't get one. The camera that I bought was a great purchase, but I'm still a little slow on the draw sometimes. This trip is moving so quickly, sometimes it's hard to catch just the right shot.