Jerusalem, Castel, Letrun, Mt. Herzl etc.
Day Four - Thursday July 6th 2006 -

- Yom Cha-mee-shee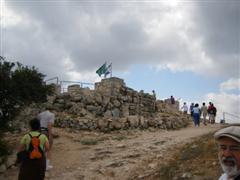 This morning we took a bus out of Jerusalem, heading West towards Tel Aviv, as if there is any other direction! (East takes you into the West Bank) Today was more of a study of the war of independence and the various battles. We started out visiting the Castel.
During the deliberations over Israel with the League of Nations (later the United Nations), the Jewish question was raised, now that the holocaust was over we need to find a safe place for Jews to go. As we found out later in the day, Theodore Herzl was instrumental in bringing this concept of a Jewish state to the forefront by creating the National Zionist Congress a group of dissimilar Jews from around the world with the belief that there should be a Jewish state.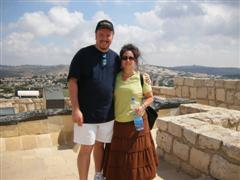 There were two issues at hand after the UN declared Israel a Jewish state. First, what to do with Jerusalem, and the second, who has access and control over the roads to Jerusalem. The Jews realized that they needed to take action and began "Operation Nachshon" named after the first person to enter the red sea after Moses split it. The Castel was a primary target by this operation. This was a strategic place with regard keeping the roads to Jerusalem safe. A battle broke out that lasted 9 days and on April 8, 1948 (my birthday, both Hebrew and Gregorian) the Arab hero Abd el Kader el-Husseini was killed by the Israeli forces (Pulmach forces I believe) and this really broke the spirit of the Arabs. The Castel was taken within the next two days and the roads were then protected and open to Jerusalem.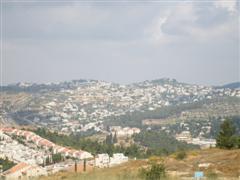 We went for a quick drive through the neighboring Arab town of Abu Gosh. They live quite well and according to Gadi, they are very friendly with Israel. He said that we totally trust them. The town was very nice and it made me think, if the Arabs spent more time building rather than destroying, they would take pride in ownership and perhaps pull themselves out of this mire they are in mentally. It's a stretch, but Abu Gosh proves that Arabs can be peaceful neighbors.
Thoughts: As I am proof reading my journal, I am noticing my comments regarding Arabs are typically of a less than gracious tone. It's because I think they suck. Sorry if that seems literarily out of place, but really, anyone who wants to argue that Israel needs to give up land to the Arabs for peace, needs to look at a map.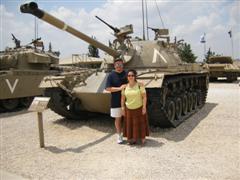 As soon as independence was declared, the war of independence broke out. The war was fought mostly by militia type fighters. The British were Arab friendly. They started to grow tired of dealing with the Jews and getting in between the Arabs and the Jews. Now that Saudi Arabia had oil, they started to lose interest in Israel until the point where they basically said, you want it (the land of rocks and sand) you can have it, and they pulled out of Israel. This created a void politically and militarily. Israel then "declared" the state of Israel (as we learn on day 11) and the War of Independence broke out, the very next day.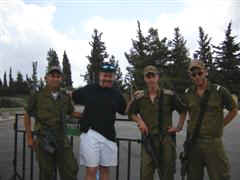 We went to Letrun, a large police station with a bunch of tanks. We got to climb on the tanks, not inside them, which was cool – took some great photos. We saw a really goofy 80's looking video about soldiers and their tanks, and we chuckled. We saw many armed personnel.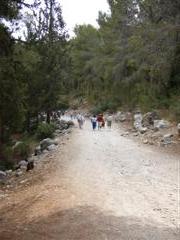 We then took a ride over to the Burma road which was used to circumvent the four miles of the road to Jerusalem that was under Jordanian control at the time. According to the cease-fire agreement Jordan was supposed to allow passage (according to a clause), but they didn't allow this passage and it forced the Jews to create the very narrow, and rocky "Burma" road to continue to send supplies to the, then besieged, Jerusalem. The Burma road has trees all around it, trees planted one by one, by hand, as a result of the JNF project of planting trees in Israel.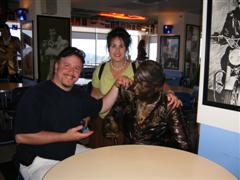 We ate at Elvis' diner. That was strange. The food was lousy. The burger was like rubber, it made me scared to eat burgers in Israel. We did take a picture with Elvis though! Those who are looking for him need to go to the West side of Jerusalem.
We then returned to Jerusalem and saw Jech Sherach, a place where doctors and guards were ambushed and 78 people were killed.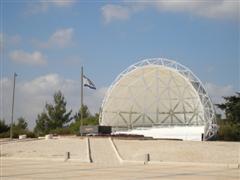 We went to Mount Herzl, and there was a great audio visual museum of the life of Theodore Herzl. He died at 45 years old in 1904. Although he lived to see six (I believe) National Zionist Congresses, he never saw the Israel of today as free state and homeland to the Jews.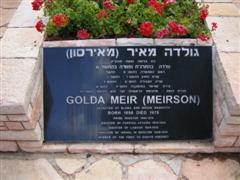 At this location we also saw several major grave sites, including Golda Meir and Yitzchak Rabin. There are thousands of graves on Mt. Herzl as there is a military cemetery there, but they are not all in simple rows. Each gravesite is beautiful, there is plenty of room to put the deceased, it is raised about 2 feet and there is a nice headstone with plenty of room to give more that just name, rank and serial number.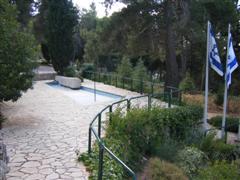 I was absolutely exhausted, and we returned to the hotel to get ready for the wedding. We had limited time, but in 5 minutes, I was able to nod off and go to sleep. I was awoken by my lovely wife who yelled, "HEY WHY DON'T YOU GET SOME REST!" Yeah, right, I will as soon as you stop YELLING AT ME!
I just LOVE her!!!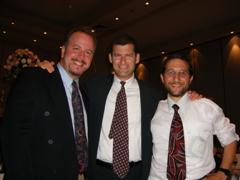 We went to Rabbi and Morah Chait's daughter's wedding. We had a wonderful time. I sat next to some people who know Rabbi Klestzick, Danny Meyers, and Mitch & Lydia Rosner. We talked about the halachic comparisons between the number of days relating to a wedding and then number of days relating to mourning. There are specific things to do at 1 day, 3 days, 7 days, 30 days, and 1 year. They are all the same number of days. Coincidence, Mitch thought not!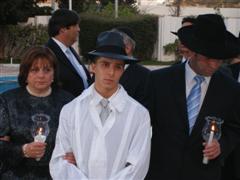 The groom looked very serious as he was brought out, apparently that is to show that he is serious about the commitment he is about to make for the rest of his life. The whole ceremony was beautiful, and very happy.
One the way back we grabbed a taxi, a Jewish man was driving. He asked us, after some typical small talk (where are you from etc.), "why don't you move to Jerusalem?" Amy Beth responded "It's like asking us why don't you move to some other country." The guy clearly didn't understand the question. Not from a translation stand point, but from an emotional standpoint. It doesn't make sense to people in Jerusalem for Jews to live elsewhere. This is his home. This is our home, a home for the Jewish people.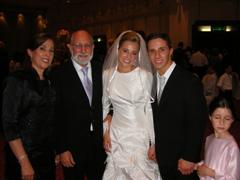 As we were driving back, I noticed he made a wrong turn. I didn't say, anything, I didn't really think it was a big deal, it may have wasted up to two minutes, but when we got about two minutes away from the Dan Panorama, the driver stopped the meter and it began to print out. He, without being asked, owned up to his own mistake. Then I thought, "only in Israel would a cab driver be so honest." He wore a yarmulke and was from Jerusalem, he said "baruch hashem" several times, and he understands what being part of the covenant is. I tried to tip him, he kindly refused. I thanked him for the ride, and went back inside to go to sleep.
Thoughts: Israel is not just home to the Jews who live there, it is home for all Jews. Regardless of how accepted Jews and Judaism is in America, there is no place where a Jew is accepted as a Jew, more than Israel. There are some divisions within the Jewish school of thought regarding levels of observance etc., but everyone accepts Jews in Israel. There is no threat of anti-semitism, and you don't have to explain yourself, or what and why you believe as you do.
Tomorrow we go to Masada and the Dead Sea!