Trip to Tel Aviv, pass through Haifa, Exodus
Day Eleven - Thursday July 13th -

- Yom Cha-mee-shee
I was awakened today at 4:30am by the sound of helicopters flying north over Tzefat. Every couple of minutes there was another helicopter (or group of helicopters) that flew above. After the first 10 minutes of this, I got up and took a look off of my balcony. I could see one helicopter at a time flying North. Only one helicopter flew south east. I knew that they were going towards Lebanon. This gave me a very uneasy feeling. The thought was that while I'm sleeping under the protection of the IDF, these young boys were up in the air risking their lives to protect Israel.
Knowing that I need the sleep, I tried to get back to sleep, but really just tossed and turned for about 25-30 minutes until I heard the first of the artillery concussions. Just as yesterday, I could hear the concussion of the artillery shells in the north. We are probably no more than 15 miles away from the fighting. In some respects that is extremely close, obviously one cannot turn a deaf ear to the fighting, as easily as one can in the US. You hear it, you feel it, you think about it. I'm wondering now, what exactly is going on and if everyone is OK. But, I know the reality of war. On the other hand, we are 15 miles from the fighting, and in terms of Israel, that is a very long way. Plus, we are on the IDF side of the fighting. Thank G-d that the Arabs do not possess the equipment to fire long range missiles.
(Added: Little did I know about Ketyusha rockets…)
I don't want to call Mom and Dad right now to worry them, I would never tell them this story while I am here. Before coming to Israel, I felt concerned about terrorism. I expressed this to several people. I know that everyone who said that "you are not going anywhere near the fighting" or "you will feel safe in Israel" all had their best intensions. I don't feel threatened right now, but my anxiety level is very heightened. I'm up over an hour early from an already early wake up call of 6:30am. This is not terrorism, this is war, or at least war games. The exchange of some artillery fire, the passing of helicopters above.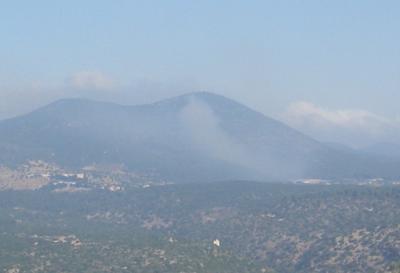 At 7:17am there was another barrage of concussions of artillery shells. There was another one that sounded much louder and more of an explosion sound, rather than a deep concussion. We found out later that this was a rocket that hit on the mountain that we were overlooking off of our balcony, called Mount Meron. I took a picture of this attack as we left Tzefat. We also learned as we were leaving that Israel had attacked the Beirut airports. I heard the sounds of troops building up for those attacks, first hand. This all may sound exciting, but it really gave us an unnecessary heightened sense of alert, and made for tension throughout the day.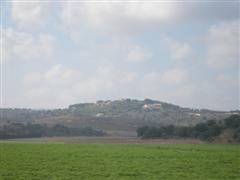 We set off for Tel Aviv (final destination) heading South. We passed many sites and villages. Lower Galilee, the Horn of Chetine, Netofa (beautiful valley), Golani Junction, passed Nazareth on the left. The Tel of Tzipoori was the home of Rabbi Yehuda Hanasi, the rabbi who finished the 6 volumes of the Mishna.
We passed the Ramat David airstrip where most of the attacks in the north were probably launched from. Bet Shaarin where Rabbi Yehuda Hanasi was buried.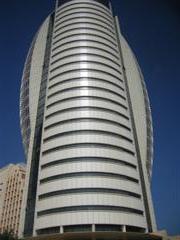 We made our way down to the port city of Haifa. We only drove through Haifa. It looked somewhat industrial to me. We passed high rises, power lines, roadways, trains, train tracks. Ba'a'ula Faith is located in Haifa. They have their entire faith headquarters, archives etc. located in Haifa. We found out later about the rockets that hit Haifa for the first time ever. We drove through Haifa around 10 am.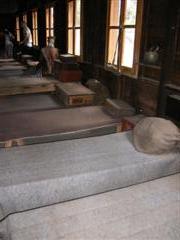 We then visited and studied the story of the detention camps in Atlit that were used by the British to keep the Jews who entered Palestine (the given name for the area at the time) "illegally" as they were bound by a "white paper" that defined only 5000 immigrants. All others were treated in less than proper conditions. Imagine a person who comes from Europe have just survived the Holocaust, entering a shower that looked like a gas chamber, being separated from your wife, and going through a de-licing procedure. All of this continued to attempt to take away the dignity of the Jewish people. The highlight of the story was when 208 of the immigrants were rescued from the camps by the Palmach under the direction of Yitzchak Rabin who was 2nd in command of the operation.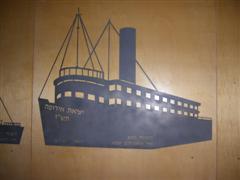 Izzy Ipson was one of those who were responsible to get the Jews of the Holocaust in Europe to a ship to sail to Palestine, just like the story of the Exodus. He actually passed as a diesel mechanic and drove Ben Gurion around for a while. His actual profession was a lawyer.
In fact, the Exodus was bought and paid for by Richmonders including Neil November.
We, as a group learned that Nahariya was hit killing one woman. The rockets that are being fired are called Katyusha rockets with a range of about 12 miles.
We traveled through Zichron Ya'akov, the Memory of Jacob. We got onto Rt. 4.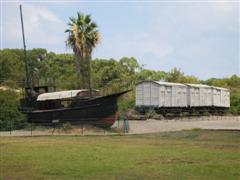 A factoid that I learned: The four holy cities are thusly Jerusalem, for obvious reasons, Tiberias because of the Jewish scholars who also helped to keep Hebrew as a spoken language alive, Chebron because it has the tombs of the matriarchs and the patriarchs, they are all buried in Chebron, and Tzefat because of the Zohar and Jewish mysticism.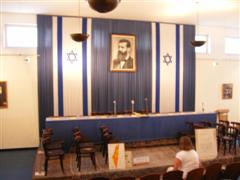 We arrived in Tel Aviv to view a presentation at Independence Hall regarding the "declaration" of independence. As I learned, Israel was simply "declared" a new state. Israel was established, and is still being established as we speak.
Our guide was Tali. She was emotional and passionate. A phenomenal presentation. She explained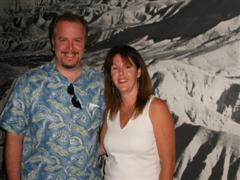 the history of Tel Aviv, from the sandy shores, to the fine square with the homes along the side. The first mayor was Mayor Dizengoff, who was also the main planner of the city of Tel Aviv. His home, which was converted to an art museum in 1930 was used as the location of the declaration. They had very limited time from the time that Britain decided to pull out, to arrange the formal event of the declaration. They had to decide on the content, send out invitations, find a location etc.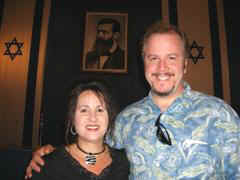 With a single statement, all released just moments before going on, David Ben Gurion delivered an emotional and historic speech, as Israel was declared an independent state on May 14th, 1948, the 5th of Iyar. The very next day, the Arab states attacked Israel and thus began the war of Independence.
Very few Israelis knew where the declaration took place until 1978 when they created "independence hall" and started to celebrate this important event at it's original location.
We took a tour through Jaffa, which is right next to Tel Aviv, where there is a lot of Philistine history and pretty view of the Tel Aviv beach. We studied how Napoleon tried to lay siege to Acre, but failed, and basically went back to France to exit the historical stage.
I called Mom and Dad and told them not to worry about me. We are much safer in Tel Aviv than anywhere in the north. You really do feel safe in Tel Aviv.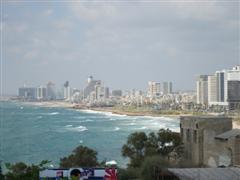 We then learned that Tzefat was in fact hit with 11 Katyusha rockets and one hit and killed a woman in Tzefat. This really hit home as we had just left Tzefat that morning. We also learned that Nahariya had been hit. The vibe of the trip, which was very upbeat for the last two weeks, is now somewhat sullen and subdued.
We went out to enjoy a wonderful dinner at the Maganda restaurant, a Yemenite restaurant. For the third night in a row, we had an "over the top" dinner with Mediterranean delicacies.
On the way back Bob Shneider spoke with his son who informed him that Haifa had been attacked with two rockets. Yet another reminder of how dangerous and tenuous the situation is considering that we were just there only a few hours ago.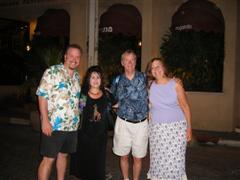 Thoughts: I am now confronted with a dilemma. I am very concerned about our trip tomorrow. We are scheduled to go to Yad Mordechai. This is only 20 miles from the Gaza Strip. There were 19 killed in the Palestinian areas of Gaza today. Israel continues to retaliate against Gaza and today there were no reports of rockets coming from Gaza, what of tomorrow? Is Yad Mordechai worth the risk? Amy Beth has a fearless attitude towards the whole thing. She doesn't want to let the terrorists win, by fearing and not going. I on the other hand, although I understand the nobility of that idea, am restrained by the thought that, I need to keep my family safe. Regardless of the decision that Gadi or the Rabbi is making, I don't feel safe anymore. Certainly not near the Gaza strip. We were 15 miles from the fighting this morning in Lebanon, and only three blocks away from the Katyusha missile that hit Tzefat, a few hours from Haifa before it was hit for the very first time in the history of the city. How can Gadi, and the Rabbi, guarantee safety?
Amy Beth keeps asking me, "do you think that the Rabbi and Gadi would put us in danger?" I don't think that they would intentionally put us in harm's way, however, if Haifa, a town that has never been bombed (by rockets) just got bombed today, on the only one day that I, personally went to Haifa, I do believe that anything can happen, and I am very concerned.
This is not "the norm."