Afterthoughts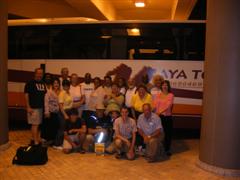 It is Tuesday afternoon and I have spent the last couple of days telling this story of Israel over and over again to all of my friends who called and voiced their concern for our safety. My initial conversation is to tell them the shocking details of how we narrowly escaped the violence by only six hours, how Tzefat was hit right after we were there, how Haifa was hit right after we were there, how the Chinese Pagoda was hit right after we were there. But, the thought that I have been leaving people with is, Israel will survive – "Am Yisroel Chai" just like the graffiti said, and the other thought is, you must go to Israel, sometime in your lifetime. There is too much beauty, too much history, and too much significance to Israel, not to enjoy a trip like the one that I have had the privilege of going on. This was a life altering experience.
I wish the people of America would realize that a country is non-existent unless it is settled and fought for, there is no country without establishing borders and defending them. In Israel, this thought is not taught, it is built in, innate, part of the psyche of every citizen of Israel. No one there fights over whether or not you have the right to defend yourself. No one is criticizing the military for going into Lebanon and taking the war to Hezbollah instead of fighting it in Israel. The people of Israel understand that a country worth having, is a country worth fighting for.
I had a fantastic time, the trip was everything that I hoped for and more. We will certainly go back, during peace. I sincerely hope that time comes soon. Each day that passes we hear more bad news of casualties on both ends of the conflict and Israel is losing the media war. We will go back again and see other areas that we didn't get to on this trip. Amy Beth wants to move back, she asked me if I wanted to move to Israel within an hour of landing (in Israel). Only my wonderful wife would so casually ask me such a serious question when I clearly didn't have any time to ponder anything at that point. The funny thing is, I didn't say no.
I can certainly say that we will return, for Israel is now a part of me, and I'm a part of it. It is there for me, and I will be there for Israel.