Jacob & Ari - January 2005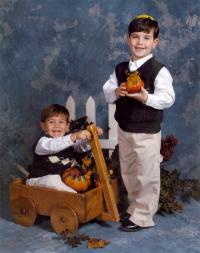 I can't believe that the time has gone by so unbelievably fast, but that's what happens with little ones. We cherish the moment, and then it's gone. It's been a while since my last update. I have plenty of new material to write about, but then again, pick any day and start writing!
Jacob is 4 years and eight months old, and Ari is 2 years and eight months old.
Jacob and Ari are both going to a Jewish pre-school (not mentioning where on the internet), and they are loving it. They come home and start singing songs that I know we didn't teach them - because even we don't know them - but we're learning!
Ari is a very strong guy. He loves to carry things. It's not uncommon to see him with his hands filled with too many toys, as if to say, "if I don't keep it with me, it'll disappear." Today, he was carrying the following items when we he came up to my office, Jim Jimmy (action figure - self named), Niko (action figure - self named), Buzz Lightyear (action figure - from Toy Story) and two mini fold-out catalogs for Thomas the Train. You know which ones are the most important? You guessed it, the catalogs!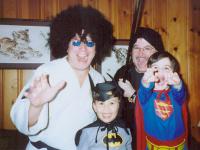 He loves to give "kisses through the bars" at bedtime, where he kisses us through the bars of the crib. We are hoping to be able to get him into a bed sometime soon, but so far, he hasn't really outgrown the crib - maybe we're to cheap to buy bunk beds!
Mommy and Daddy are having a great time with Ari while he still is learning to pronounce words. We are constantly asking him to say things like "dump-truck", and "I want to play with my stick." The outcome is hilarious, does this make us bad parents?! :-)
Jacob is our little man. He is very affectionate and intelligent. He is constantly giving us hugs and kisses. As long as he likes to do them, we'll continue to accept them!
Two things, among others, are very distinctive about Jacob relative to other children. First, he has an incredible memory. If he meets you once, he not only will remember you, and your name, but he will also remember his experience with you. I have found myself many times wondering "how does he know that," of course the answer being, that he picked it up the one time it was mentioned.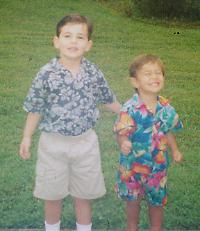 The second thing is his empathy. It is very rare for a child of his age to feel such emotion for someone else. He remembers your ailments and he asks about them.
I'll illustrate both talents with a funny story. Mom (Nanny) was having some pain in her shoulder. A couple of weeks later Jacob spoke with his Nanny on the phone and asked, "Nanny, how is your shoulder," to which Nanny replied "Fine," then Jacob asked, "how is the rest of you?"
Another Jacob-isms: Jacob and Nanny went over to her next door neighbor's house. When Jacob entered the house, he said, "you have a very lovely house, may I have a tour?" This was out of the mouth of a 4 year old, you could fall on the floor after that one!
Each step along the way is filled with joy and challenges, nachus and tsuris. We know that we only get one chance to enjoy these years, so we are taking complete advantage of it!