Jacob - 16 Months

Jacob's One Year Photo
Welcome back to Jacobs webpage. We have changed the format slightly to include a bit more of a story behind each chapter of Jacobs development, along with the pictures. Just click on a thumbnail picture to see the large sized version.
I am sitting down and writing this record to update you all about Jacob and whats new here at the Lehman household. Jacob is now 16 months old and doing just great. He is almost walking, when I say almost, I mean - as close as you can without actually taking a step! He grabs furniture and walks all over the place, but he has yet to take that first unassisted step, although we know it is coming soon, Mommy and Daddy are willing to wait!

Another One Year Photo
We recently went to dinner with Bob. He said that Jacob looked great and healthy, and about that moment, Amy Beth gave Jacob a bottle. Bob exclaimed "He's still on the bottle? WHY?!" To which we didn't have a good answer other than, it was convenient. He alerted us to the problems with keeping a child on the bottle for too long and we immediately began the challenging switch over to the "dreaded sippy cup!"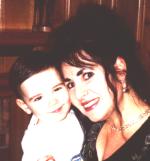 Let me digress for a moment here. I have been a long time believer that companies do not actually use their own products. The "dreaded sippy cup" is no different. We had tried the sippy cup a few times in the past, but the cup required so much suction that I was incapable of using it myself. It was only then that we discovered the true mechanices behind the supposed "one way - dreaded sippy cup valve!" Let me tell you, if your valve isn't working properly (ie. the plastic insert doesn't have a little slit in it), then you will have one thirsty baby!


Mommy and Jacob
Needles to say, once we discovered this, we were able to rectify the matter and proceed with Jacob's growth and development, and move him onto the "wonderful sippy cup."
Jacob is a solid sleeper and never wakes during the night. He has recently started to become very affectionate and he often lays his head on our shoulders when we hold him at night and whenever he is tired. His eating habits are slowing down just a bit, but we have been told that this is very normal.

Jacob and Cousin
Ethan Van Glish
The one thing that many people have noticed about Jacob is how comfortable he is around people. He loves to be held and he doesn't mind being around a room full of people.
Last night at Papa's 75th birthday party, he entertained his cousins with a rendition of "bang the table!" What a ham, we can't seem to figure out where he gets it from!
We recently went to Atlanta GA to see the Jereme Weiner's baby naming. We had a great time and Jacob got a chance to shmooze, in a "kid" kind of way, with his younger (and older) cousins Jordan and Ethan Van Glish and of course Jereme Weiner. We went on a visit to the Atlanta Zoo, where Jacob and his cousin Ethan were in a stroller together pal-ing around having a great time!

Cousins
Debra and Ethan,
Lisa and Jereme,
Amy Beth and Jacob
It was a wonderful trip for mommy and daddy too as we had a chance to spend quality time with our cousins Debra and David, Dana and Harvey, and Lisa and Jay.
We will keep you posted as the developments occur. As always, please feel free to drop Jacob an email (by clicking here) and we will make sure that we read the email to Jacob. He may not be able to understand it fully yet, but we will do our best to interpret your message into Jacob-ese! Till then, we hope you enjoy the new format, and please check back often.