Computer Resolutions, Inc.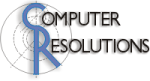 This is Rich's computer company specializing in computer programming, hardware, databases, tutoring, web page design, and general computer consulting. Come on by and check out the cool links!
Souler Coaster


Enter the Souler Coaster web page and be transformed back into time. For the 70's classic funk experience of a lifetime, you need to see them live! See the calendar for dates and the sounds page for sound bites of the band. A truly funk-a-delic experience.
Lehman Engineering Company


This is Lo's company specializing in engineering seminars entitled The Electric Power Forum series of seminars.
Personal Sites
Saxon Shoes
This is of course the largest and most complete shoe store in Virginia, and in our opinion the best shoe store in the entire world!!! Check out the page!
CoreSwim.com
Come and check out Matt and Linda's newest project. They have created a set of videos on "Core" and "Shoulder" stabilization for competitive swimmers. Very professional!
Pediatric Affiliates


Did you know that Doc Bob has a site for his pediatric practice? If you did know that, you may find there are a lot of things about his practice that you didn't know! Check it out!!!